Slovenia is not just nature and beautiful sites. In this paradise country you can also experience world-class cuisine. Due to its rich gastronomic offer, it has been awarded the title of European Region of Gastronomy 2021. Slovenian chefs will impress you with their authentic creativity when making scrumptious food with carefully selected local ingredients.
You can see Slovenia´s geographic position reflected in its gastronomy. You will experience different tastes in the Alps than on the Adriatic coast, in the Karst Region or in the Pannonian Plan. Each region has its own typical dishes. What they all have in common is their distinctively local manner to prepare the food. In all the regions you will find local dishes accompanied with good wine.
Dish of Janez Bratovž, www.slovenia.info, photo: Tomo Jeseničnik
WINE
We can divide Slovenia in different wine-growing regions, each with different soil, climate, and cellaring methods which gives us diverse selection of varieties. Selected wines from each region are ranked among the best in the world regarding quality.
Every wine-growing region has made its own wine road which will take you to the winegrowers and wine cellar keepers, tucked away in small, picturesque villages. Local people will be happy to offer you some of its best wines and other culinary delights. Don´t miss out on your chance to spend the night in the stunning nature, off the beaten track. The most famous region is definitely Goriška Brda. In some parts of the year you can also enjoy celebrating the wine holidays and festivals.
Wines in Brda – Winery Simcic, source: www.slovenia.info, photo: Dean Dubokovič
Did you know that the oldest known grape-producing vine has its home in Maribor (NE part of Slovenia)? The Blauer Kölner grapevine variety is believed to be growing for over 400 years. The grapevine has become a special landmark in Slovenia and yields up around 55 kilos of red grapes each year. After the celebratory grape harvest, they carefully produce the Žametna Črnina (Black Velvet) wine. They then bottle it into 250 millilitre bottles with a special design.
Another known Slovenian wine is Teran, made from the refošk grape variety which you can find growing in Karst region, on a reddish karst soil. This type of wine is has most Anthocyanins among all the red wines in this region and its good for your heart, the vascular system, and the brain.
Sparkling wines also have a long tradition in Slovenia. A classic among sparkling wines is The Radgona sparkling wine. You can visit sparkling wine cellar in Gornja Radgona which has been open in 1853.
BEER
Another popular drink among Slovenians is beer. There are two larger breweries in Slovenia: Laško and Ljubljana but smaller breweries all around Slovenia are gaining their popularity. When visiting Ljubljana (capital city) you can include a guided tastings of craft beer to your sightseeing or you can spoil yourself on wellness treatments using beer or its ingredients. The popularity of this drink has even led to an annual festival in Laško, devoted to beer.
If you would like to get to know more about the hop growing and beer making tradition you can visit Eco-Museum of Hop Growing and the Brewing Industry in Žalec, in the Lower Savinja Valley, the centre of Slovenia's hop growing. When in Žalec you can´t skip a visit to world´s first beer fountain in the town centre where you can taste different local beer varieties.
Beer fountain of Green gold in Žalec, source: www.slovenia.info, photo: Nea Culpa
LOCAL PRODUCTS
Slovenian cheese is produced in the idyllic mountain setting. Various varieties have gained a protected designation of origin. In Bohinj dairy farming has a long tradition so make sure to try its Mohant cheese. Its specific aroma will enchant you as the vibrant yellow color of the nanoški cheese. In Soča Valley, more precisely, Bovec you will find exquisite bovški sir and in Tolminc, the sweet Tolminc cheese.
Valter Kramar in his cheese aging cellar, source: www.slovenia.info, photo: Luka Karlin, Studio Virc
You will also find a variety of meat products in Slovenia.  Especially known is the regional sausage called kranjska klobasa. In Kras region you will find a number of different meat products with geographical protection such as the prosciutto (kraški pršut). You also have to try the prleška tünka, pork meat preserved in minced lard and zgornjesavinjski želodec (similar to salami) from the region of Solčava.
Local prosciutto, source: www.slovenia.info, photo: Boris Pretnar
If you are visiting coast you have to make a stop at Piran salt pans one of the few where salt is still produced in a traditional way. The Piran salt makes it a great souvenir, same as the extra virgin olive oil from Istria or pumpkin seed oil from Štajerska-Prekmurje region. Another healthy local product is the kočevski gozdni med, the protected variety of forest honey.
For all the sweet tooths there are a lot of options of rich desserts made from local ingredients. The most known being the prekmurska gibanica (layered cake containing poppy seeds, walnuts, apples and quark), kremna rezina (cream cake) from Bled and potica (nut roll) which you will find an all Slovenian tables at festive days.
UNIQUE EXPERIENCE
From high-end restaurants to hotels and resorts, in Slovenia they all swear by local cuisine. You will be served typical dishes which reflect a big diversity due to mixing cuisines and specialities from different regions can be found at culinary events. To get the true taste of the local cuisine we recommend paying a visit at tourist farms or mountain cabins. You have plenty of km of marked mountain trails for hiking through picturesque Slovenian landscape. There can be many mountain huts found on the way which will serve you with typical Slovenian stews and other dishes. To regain your strengths you might want to try žganci (mush) with sour milk in of the mountain pastures where shepherds live.
Culinary experience in Istria, www.slovenia.info, photo: Jaka Ivančič
RENOWED SLOVENIAN CHEFS
The centre traditional as well as haute cuisine are its fresh and high-quality ingredients, locally produced and carefully selected. This gives a special fullness of flavours to Slovene gastronomy. The chefs are committed to the 'from the garden to the table' principle. Adding diversity and creativity puts Slovenia on the European gastronomic map and presents prestigious restaurants and most renowned chefs to the world.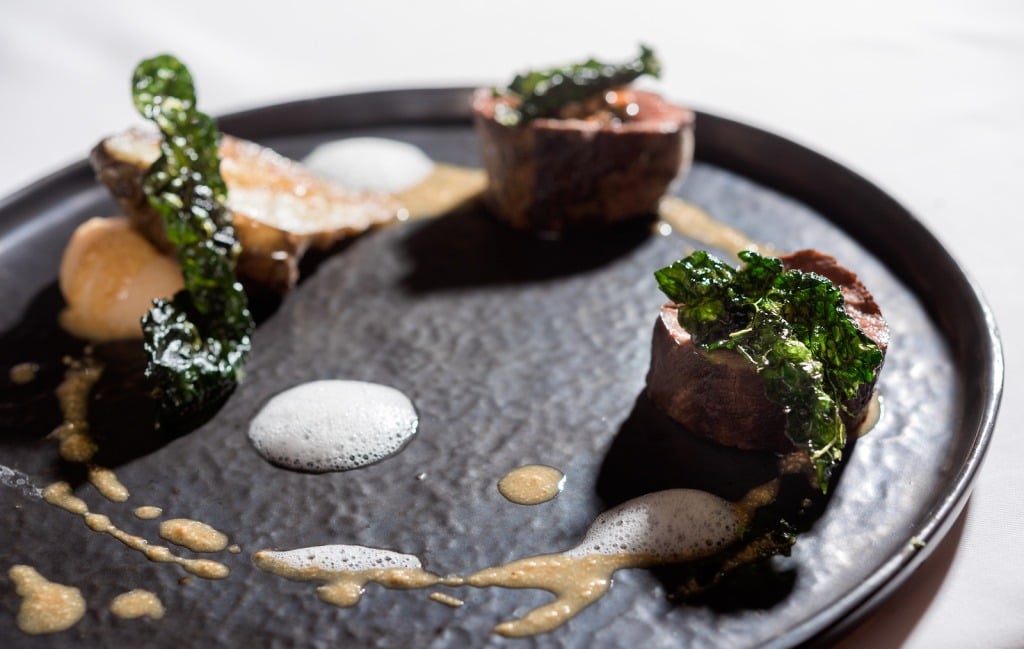 Culinary specialties from chef Ana Ros, source: www.slovenia.info, photo: Dean Dubokovič
The most popular name in the last years, when talking about the Slovenian gastronomy, is definitely Ana Roš, World's Best Female Chef 2017. You can experience her creations in Hiša Franko where they will offer you a special gourmet experience based on the seasonal ingredients from the nature along the River Soča. Janez Bratovž, the chef of JB Restaurant, which is on the San Pellegrino's Top 100 World's Best Restaurant list, will present you the ingredients from the famous Ljubljana marketplace. And Tomaž Kavčič (the most innovative European chef of 2017 as declared by Restaurateurs JRE) follows the concept of "poor man's ingredients" to create masterpieces in Pri Lojzetu Restaurant at the Zemono Maner in Vipava Valley. They all offer unique gourmet experience worth prestigious world titles.